Welcome to my Cup of China recap!
This weekend was the 3rd event in the Grand Prix series and the first one not in a time zone I can work with. Ugh. Skating events in the middle of the night just aren't my thing. Though I still did watch the Ladies and Mens SP live, I couldn't sleep and it just happened to be on. I considered watching some of the FS live but sleep ultimately won out. Perhaps if Yuzu was skating….perhaps I'll have to rearrange my schedule during NHK.
Anyway, Cup of China happened and THERE WERE NO CRAZY ACCIDENTS!! Woot! Woot! No collisions, no blood, no concussions, no 5 fall programs (though Kaetlyn Osmond did last week…)!
This week I shared some of my Cup of China thoughts with The Judges Table. Thanks to everyone for letting me be a part of it, I can't wait for the next one.
Ladies
This event marked the return of Mao Asada. She took to the ice for her SP and BAM! She was amazing! That 3A looks better than it's ever been, yes there were some issues with the combo but still, Mao looks even better than when she left. She didn't just come back, she came back in full force with a full arsenal of jumps (unlike Patrick who came back to his circa late 2010 form, that's a lie – he was at least doing two 3A and a 4T at that time, though in all fairness he is planning on adding that second 4T still, I think – anyways….).
Welcome back Mao, I think I missed you more than I ever thought. She was a bit of fresh air here. Can't wait to see you in Boston! Though I do wonder what her game plan is. She doesn't have the Olympic Gold, is Korea 2018 her goal? Can she keep off the youngsters?
Also, with Mao back Japan has another megastar – perhaps there will be less pressure on Yuzu to do shows and make appearances. Let the boy train!
Rika Hongo! Wow! That FS was fantastic! I know you made the GPF last season and were 6th at Worlds but I don't think I've ever actually watched one of your full performance before. I was quite surprised. Your jumps are so solid and your program was so much fun. You still need a little refinement around the edges, but still quite excellent.
One more comment on these Japanese ladies, you need some serious hairspray. Both your dresses are stunning but there were so many fly-aways when both of you were in the kiss n'cry.
Now I need to talk about Elena Radionova and that FS. Just last week I said, "If I had a FS I would want it to be
My Heart Will Go On, with dialogue from the movie
". And just like that, a week later I saw this program. It's everything I could possibly want. It's so excellent and just so awful at the same time. Each voice-over just makes me laugh. Especially Rose trying to wake up Jack in the middle. Just so excellent. I love it so much (though the choreography could be a bit better in places and she could skate to the music more). But even better than the music is the dress. Elena looks fabulous. It's a perfect skating dress version of one of Rose's purple dress. Beautiful!
Now let's actually talk about Miss Radionova. She appears to have grown since last season and is struggling a bit with her jumps. I really hope she gets things sorted out. I quite like her and thinks she has so much potential to develop into a really strong skater. She's also a very gorgeous young girl.
After 3 events Team Japan and Team USA are looking strong. Team Russia, you're going to have to step it up!
Dance
Yay little Italians! Someone actually beat Chock & Bates! Huzzah! I was definitely shocked upon seeing the results, but I couldn't be happier. Their FD this season is cute and quite charming. I can definitely get behind it.
I don't have anything to say about the Americans. Except they are not going to be happy. They'll be sure to have their technical issues sorted out by the GPF.
Ice Dance this season is so unpredictable. I have literally no idea how all these teams are going to stack up against each other. And we haven't even seen the World Champions yet, who know's how they'll fit in to the mix.
…..It's funny how little I have to say about Dance compared to the other disciplines.
Pairs
I was also quite shocked to see Kavaguti and Smirnov upset Sui and Han. I did not see that coming. I had totes forgotten about the Russians, completely written them off. But nope, they are back with vengeance and back with quads. I 100% applaud them for upping the difficulty in their FS but I still feel like the program was lacking. Both quads were from an almost standstill and the rest of the elements seemed like they were being checked off a list. I definitely enjoy Duhamel & Radford's quad filled FS more (though I'm guessing the Canadians are going to be upping their game here moving forward, they're going to be trying that 4Lz more often!). One final comment, I love to see the quads but is technical content worth more than PCS? Don't forget about the program in the process. Though it does seem the judges are favouring quads these days….
On that note, seriously how did Sui and Han not win this?!? The event was even in China. Didn't the judges get the memo that you get a PCS boost when skating on home ice. Sui and Han had higher PCS in the SP but not in the FS, where I thought they were far superior. Poor little Chinese skaters, the Canadians and Americans both saw a boost at their events. Regardless of the scores, I still think Sui and Han are going to have an excellent season and will be the biggest competition to the Canadians moving forward. And I actually like them which makes it all more exciting.
And finally, a couple thoughts on Dylan and Lubov. They seem to be having some lift issues this season. That seems so uncharacteristic from Dylan, lifts were what he was best at! Even though the placement wasn't stellar here, their FS score was almost exactly the same as Moore-Towers and Marinaro at Skate Canada. The Cup of China field was just far superior to the field at Skate Canada. Nationals is going to be intense between these teams. I'm still #TeamDylan.
 Men
First, nothing else matters except QUAD LUTZ!! Wow! So big and effortless. I could not be more impressed! That, plus the other quads, wow! Seriously, if I were a competing male I'd be worried for the day this guy gets some transitions and improves his basic skating skills. The gap between his TES and PCS right now is astounding! 27.02 points!
While he has ridiculous quads there was very little else going on, even with the rest of his technical elements. His 4Lz-3T was the highest scoring element ever! With that in his SP, the TES score was 53.76. But this wasn't the highest; Yuzu has scored higher twice. A strategic jump layout and quality elements still won out. And in the FS his TES was 99.60 with 4 quads, 2 3A and a few stumbles throughout. At Skate Canada Yuzu scored 98.35 with 3 quads, 2 3A and a few stumbles throughout. Technically, there are skaters who can easily still beat him based on the quality of their elements and the difficulty of their non-jump elements. But if Boyang's clean and others make mistakes it could be interesting. Though the giant PCS gap should easily save the best in the world if they have a few jump issues.
All that said, Boyang Jin is an amazing talent and others are going to be trying to catch up technically. The real question is if he'll be able to catch up in PCS. He's still so young, I wouldn't put it past him.
Now Han Yan, I really want to like you. Like really, but you keep disappointing. His 3A is one of the best and he's such a gorgeous skater. But I feel he's never going to reach his full potential. He just hasn't been able to put it all together and now Boyang is in the process of taking his spot as the top Chinese man. Though Han Yan, I was greatly entertained by Leonardo DiCaprio's voice in your FS. Seriously, these skaters know the way directly to my heart this season.
Congrats to two Chinese men on the podium!
And Javi! What an excellent start to your season as well! Team Orser is looking strong. Javi skated like the World Champion he is, it's really nice to see. He's looking so confident so early on in the season. Good job Javi! I still think that if he was going to win Worlds, last year was his best opportunity (but who really knows what'll happen in March, I'm not even sure who I'd predict on the podium at this stage…).
I really enjoyed his SP. I thought it was fabulous. Quite possibly my favourite program of his. Naturally, a Spaniard should have an excellent program to Spanish music. The crowd is going to love this in Barcelona. The internet really liked how his starting position for this program is essentially the same as Yuzu starts his FS. I also kinda enjoyed the facial hair he was sporting during this segment. I was sad to see it shaved off for the FS. The FS was a  more typical Javier Fernandez program, but this seems to be working for him so why change?
Now while Mr. Fernandez skated excellently his scores were rather entertaining. Is Javi getting the World Champion PCS boost? Were you just ensuring he won over the Chinese? Because yes Javi is good and deserves high scores, BUT these were higher than he got all last season, including when he won Worlds. The 91+ makes Yuzu's 88+ at Skate Canada seem ridiculous. Especially in some of the PCS categories, I definitely don't think Javi has surpassed Yuzu. I'm very interested to see how these boys stack up against each other (and Patrick) at the GPF.
Elladj I know you can do better! I want to see the Elladj we saw at Nebelhorn again. I teared up watching the CBC snippet on his trip to Africa last year and now I really want to cheer for him. I'm hoping he gets it together before his next event.
And Misha. Oh Misha. You were not skating here like someone who finished 6th at Worlds (though how that happened still amazes me!).
And finally, because of my recent post about Nam Nguyen I have to comment on this. Elladj finished 11th and Misha 8th and BOTH were invited to skate in the Gala! Seriously, how did that happen?!?! Makes Nam's snub at Skate Canada seem even more ridiculous.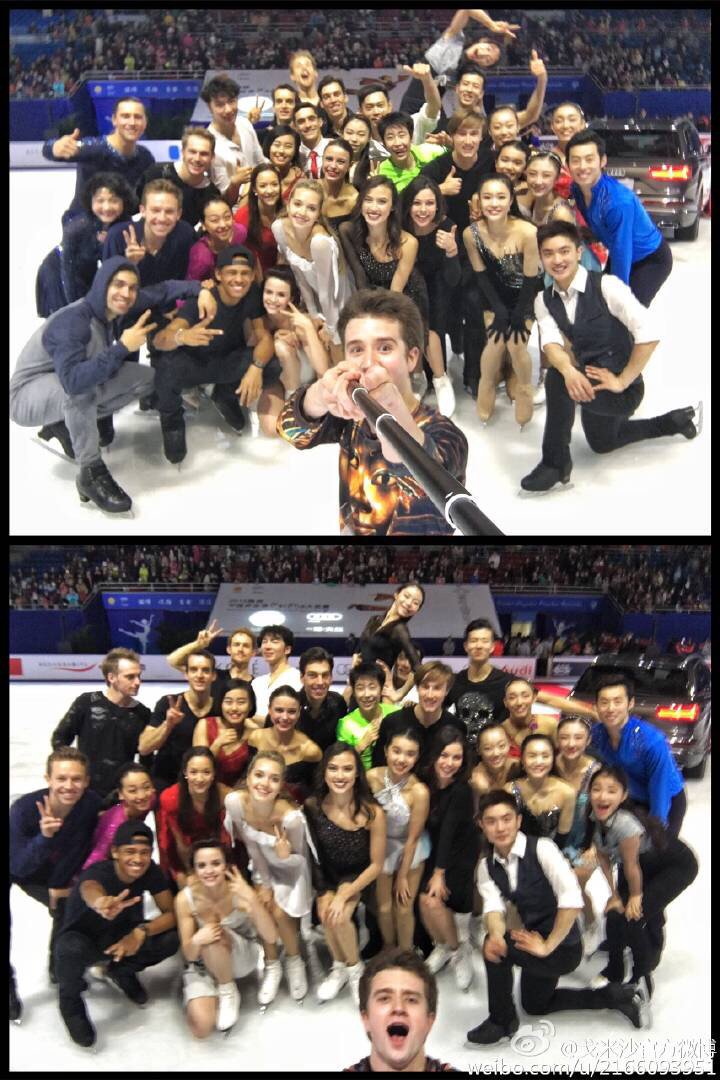 And I'll conclude with this adorable little pairs program from Mao and Javi from the Gala. Such cuties.
Thanks for reading! This week we're off to France and I should be able to watch most of it live! Yay!
– Justine Alyssa