This past Saturday I laid on the couch and watched hours upon hours of skating. What could have been better?!?! This is possibly my favourite day of the year. I was able to watch the majority of Canadian Nationals but I was also sure to catch the highlights of what was happening in the US (to be honest there wasn't a lot I cared about). I was happy with so many things this weekend and so disappointed with others. Right now I'm going to focus on the positive.
Here are my Top 10 Moments from Canadian (and US) Nationals 2016.
10. Liam Firus 4T in the FS – Don't be negative Justine. Don't be negative Justine. I'm proud of Liam for landing that quad. It was beautiful. Now please land it in Boston, along with the 3A and may there be a dozen Canadian judges on the panel so you get the same scores you did here. I don't think I'll ever not be bitter about this decision.
(the 1 minute mark is the best part)
9. Kirsten Moore-Towers and Michael Marinaro SP – I gasped when they went down on the 3Twist. Wow! I've never seen anything like that. But I applaud them for getting up and nailing that SP. It must have been a lot of adrenaline keeping them going. Just amazing. I've never been a fan of them, and I didn't particularly want them to make the World team but they got a standing ovation from me for this skate.
8. Alaine Chartrand SP – I remember cheering for Alaine after her clean SP at Rostelecom Cup this year. She was fantastic! And I'm so happy she was able to replicate it here. This program is fun and quirky and very different from the other SP's this season. Her jumps are looking so much more solid since she started working with Brian and I couldn't be happier. Her score here should have been higher.
7. Brian Orser is unimpressed – Did anyone else catch Brian's expression to Nam's SP scores? Because he was mega unimpressed. It was quite excellent. Brian please have a chat with who you need to, because I'm tired of Nam being forgotten.
(Tune in to 4:40!)
6. Gabby Daleman FS – I've never been the biggest fan of Gabby until this season. She was excellent at Skate Canada and then I watched her win Challenge live in December and was blown away. She skated with such command and power at Nationals and I loved it. She showed her determination here, and I hope she bottle's this now for Boston!
5. Nicolas Nadeau FS – Because what 18 year old wants to skate to Mary Poppins?? Whatever the reason, I loved it! I also saw Nicolas at Challenge and was so impressed. This kid has a bright future. He is adorable, so personable and charismatic and possibly had the best 3A in the entire event. Best of luck at Jr Worlds Nicolas! I'll be cheering.
4. Gabby & Alaine are the most adorable – I am so happy there is now another pair of competitors who skate at the Cricket Club who are also best friends! Team Orser all the way! These two were precious. Both were incredibly happy for each other and both couldn't stop the giggles and smiling. It's great to see these girls act like the teenagers they are. This friendship makes me love them even more.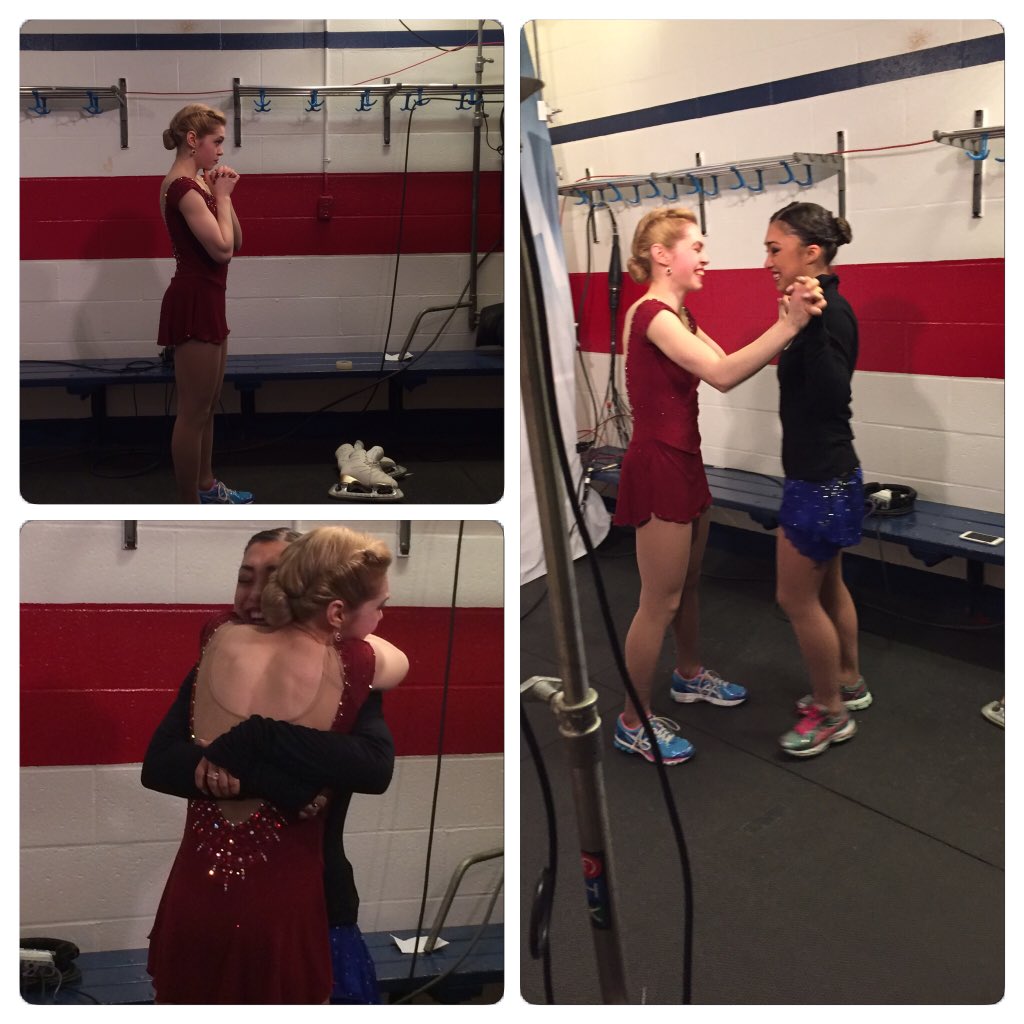 3. Shibutani's FD – This is my only American entry on this list. I slightly cared about some of the other events but I am deeply invested in the Shibs this season. Seeing them live at Skate Canada just made me fall in love with them. I was so thrilled with their FD and the result. Finally they're National Champions and finally they've beaten Chock & Bates. I now can't wait for this to happen internationally. If they skate this well in Boston there will be tears streaming down my face.
2. Seguin & Bilodeau FS – I have been loving Julianne and Charlie this season. They are so perky and consistent and the most adorable. These two have a bright future and I wouldn't be surprised to see them at the top of the podium next year. Also, did anyone else notice how these two can't keep their eyes off each other. I think it just sucks me in even more. Super excited to finally see these two in Boston!
1. Alaine Chartrand FS – Yay Alaine! Coming into Nationals I said that Alaine is probably my favourite Canadian lady and nobody agreed with me. After her FS and my group was all cheering a few people had been swayed and she had solidified her position on the top of my list. Alaine's command and fight during this program was fantastic. This program is also very charming and suits her well. Her jumps were pretty solid and if she keeps this up the second mark is just going to follow. The international judges have already started rewarding her for her clean skates. What a great time to be a fan of Canadian ladies! Congrats girls!
As usual I have a number of thoughts on the Men's event (spoiler: I am still unimpressed), so stay tuned!
Thanks for reading!
– Justine Alyssa